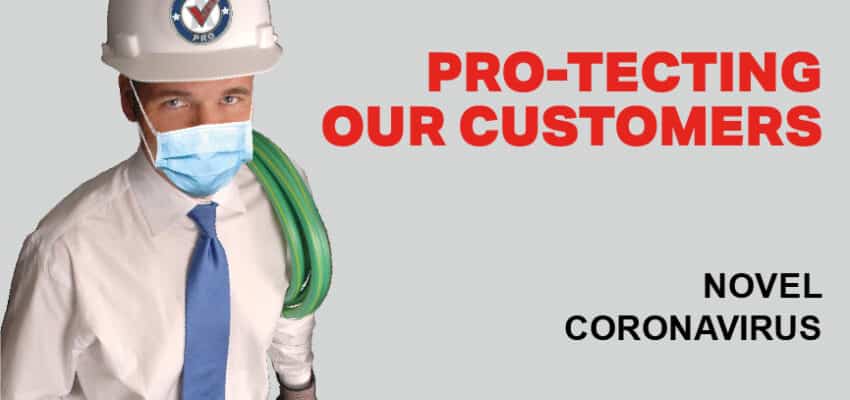 Pro-tecting Our Customers
Earlier this month we began creating the Katy Pros Pro-tection Pack. This box gives our service providers the tools they need to help protect you and your family's health while performing in-home service calls.
Your health and your family's health is important to all of us here at Katy Pros. We want you to feel confident that our providers are following all guidelines issued by the CDC and local agencies to continue to help flatten the curve and prevent the spread of the virus.
Below you will find items contained in the Katy Pros Pro-tection Pack and also some of the practices home service providers apply when they are visiting your home for service calls or repairs.
CLEAN HANDS
Our providers will be washing hands frequently. When soap and water is not available, they use hand sanitizer. Our providers will be sure to clean or sanitize hands before entering your home, and repeating as soon as they leave.
WEAR GLOVES
When working on your home and equipment, our providers will be wearing a fresh set of gloves. They are always careful to avoid touching their face while in and around your home so the gloves are not compromised.
SHOE COVERS
Shoe covers, or booties, have become a standard practice for most home service providers over the years. Before entering your home, our providers will slip on the shoe covers. Once they are finished working inside the home, they will remove and dispose of covers immediately.
WIPES
Gloves may not always be readily available due to the current demand. When gloves are not available, our providers will be sure to clean surfaces they come into contact with in your home with alcohol wipes. This helps remove any germs or viral particles that may have been transmitted when working in your home.
WEAR A MASK
Wearing a mask when providing a service in your home is a must. This not only protects you and your family, but it protects our service providers as well. Harris County recently issues a mandatory mask order and we have urged our providers to continue to follow county orders.
BE SMART
If you are sick or feeling ill, or anyone in the home is experiencing symptoms of illness, be sure to let your service provider know prior to them entering your home! Be sure to always practice safe distancing while your provider is in your home and conduct communication over the phone where possible.
*Disclaimer: Due to the current limited supply of personal protection items, some of these items may not be readily available to providers. Providers will take all possible precautions they can while we secure the necessary personal protection items.